July 4, 2015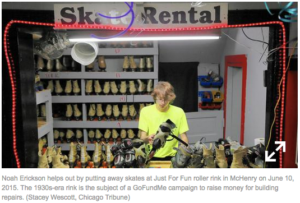 Just for Fun, a McHenry County roller rink that has been around for more than 80 years, looks for community support in order to keep its doors open.
Just for Fun roller skating rink in McHenry seeks to buck the industry's decline and stay open.
The local skating rink has long been Kathy Nowak's home away from home, her escape from sad times and the place where she met her best friend.
Now Kathy, 14, and that best friend, Noah Erickson, 16, have spearheaded a mission to save the roller skating rink, Just For Fun, in McHenry.
When they learned that the establishment's operators could not afford some much-needed building repairs, the teens, who help out around the rink, started a crowd-funding campaign on GoFundMe seeking materials, services and money to breathe new life into the 1930s-era structure. The community also has rallied to raise money in more old-fashioned ways, through car washes and word-of-mouth.
Though McHenry city officials said recently that there were no pending building code violations at the rink, operators say the structure is in need of a new roof, a fresh coat of paint, outdoor lighting, new drywall and many other small upgrades. The goal, they say, is to make the rink an inviting and safe destination, particularly for local youths.
So far the online effort alone has raised more than $600. Other contributors — many citing happy childhood memories made at Just For Fun — have dropped off cash and gift cards. Local tradesmen have offered their services for free. Older folks have stopped by to swap stories of skating at Just For Fun in the 1940s and '50s. Some have brought photos from that era, along with skates and Just for Fun jackets and embroidered patches.
The rink's operator, Lisa Duncan, 47, said she is grateful for the outpouring of support from the public.
The Spring Grove woman said Kathy and Noah started the fundraiser — at first without her knowledge — after she told them, "This will probably be our last (season). At the end of summer, that's it. We just can't afford to do it anymore."
Duncan said she barely makes enough to cover operating expenses, let alone pay for upgrades to the building, which she described as looking "like a haunted house." Also the proprietor of a newer — and, she said, more profitable — rink by the same name in Mundelein, Duncan said she does not take a salary from the McHenry location.
But amid all of the community goodwill, Duncan admits that she's also gotten some negative feedback about the fundraising effort. She acknowledges that the building has been on and off the market — it was recently listed at $575,000 — and some critics have questioned whether operators are taking advantage of the community goodwill to fix up the building and sell it.
In that way, the Just For Fun effort is like many online crowd-funding campaigns, which often come with few guarantees and require a leap of faith from those who decide to offer help.
Yet Duncan says that, even if the building does change hands, her wish is that it remains a skating rink forever. She said she believes it's a rare spot in the community where young people can gather for healthy fun.
"I would have to sell my soul to really let it close now. … There's no way I could," Duncan said. "We've all put our heart and soul and so much effort into it to keep it the way it is. The roller rink is not a money-making place. It's really a safe haven for these kids."
Wade Cepulis, whose family owns the building and whose late grandmother, Aldona, ran the rink for nearly 50 years, said he supports the efforts to spruce it up.
"She has made a lot of good efforts there," he said of Duncan. "But (roller skating) is a cyclical thing. Some years were strong and some haven't been. Hopefully, the popularity is swinging back."
Cepulis, of Wauwatosa, Wis., recalled helping his grandmother run the rink when he was a child and spending weekends in her apartment upstairs. He remembered the large cottonwood trees that used to surround the building and the miniature golf course there that his late father Ed built.
Duncan herself helped bring the establishment back to life once before.
A lifelong skater, Duncan said she was a recent transplant from Chicago to McHenry County many years ago when she learned the rink had been shuttered and was on the verge of being condemned. Duncan said she tracked down Aldona Cepulis at an assisted living facility shortly before her death and promised to fix up the rink if she could lease and run it.
Duncan hosts all-night skates and offers special activities for kids who are disabled or do not skate. She invites local high school band students to come in, set up their instruments and play until 11 p.m. Her boyfriend, Toby Tagliapietra, a former member of the U.S. roller hockey team, began a youth squad at the rink.
Noah Erickson said Just for Fun helped him find friends and community when he returned to the McHenry area when he was about 10, after having lived on the East Coast for several years.
"We are all family here," he said.
Duncan knows that, if the skating rink is to survive, it may be bucking an industry decline.
Jim McMahon has been executive director of the Indianapolis-based Roller Skating Association International, since in the 1980s, which he called the "heyday" of roller skating. Then were 1,600 rinks in the United States, he said; today, that number stands at about 1,200.
McMahon, who met his wife of 42 years in a roller rink, echoed the sentiments that a rink is an invaluable place for kids and communities.
And though it can be challenging for a roller rink to get the financial support it needs in a smaller community, such a community is really where a roller rink is most needed. "Usually the roller rink is the only thing in town to get the kids off the street," he said.
Stephanie King, 25, of McHenry, began skating at the rink when she was 10. Now she brings her two children there. She said Duncan is like a mother to her.
"We are like a little family. That is what makes it special for me and my kids," King said.
Duncan said she's often given deals to people who can't afford the entry fees and that young people often come to her with their personal problems.
"I give to everybody that asks me. If I have it, I will give it to you," Duncan said "I just need some help to do some of the repairs."
Original article here.